If you have been battling infertility and have made up your mind to go the IVF route but are yet to decide on the best IVF clinic for you, this article is for you as it spotlights some of the top IVF centers in Nigeria. So let us begin by discussing what IVF is mainly about. 
What Is IVF
In vitro fertilization is referred to as IVF. It's among the forms of assisted reproductive technology (ART) that are more known. In order to help sperm fertilize an egg and aid the fertilized egg's implantation in your uterus, in vitro fertilization (IVF) employs a combination of medications and surgical techniques.
You start by taking medications, which ages some of your eggs and prepares them for fertilization. After that, the doctor removes the eggs from your body and fertilizes them in a lab by combining them with sperm. Then they insert one or more embryos, which are fertilized eggs, straight into your uterus. If some of the embryos implant in the lining of your uterus, pregnancy results.
IVF involves a lengthy process that takes several months to finish. Although many people require more than one round of IVF to become pregnant, it can occasionally work on the first try. If you're experiencing infertility, IVF unquestionably improves your chances of becoming pregnant.
Types Of IVF Treatment
Over the years, more sophisticated IVF therapies have been developed and are applied in many contexts as will talk about them subsequently.
IVF With Eggs
In this type of IVF treatment, the couple can use their own eggs but when there is poor egg quality which prevents fertilization with sperm the couple will be required to use donor eggs to complete fertilization.
IVF With Sperm
When the man's sperm quality is poor, fertilization with eggs cannot occur, so the IVF treatment using sperm is used. The man sperm can be treated and if sperm treatment does not work, the coupleis advised to finish the process of fertilization using a donor's sperm.
IVF With PGT
When a couple is dealing with any genetic problems, PGT is the treatment that is employed. The doctors remove the contaminated embryo from the sterilised embryo during this therapy. and insert the sterile embryo into the uterus of the female.
IVF With ICSI
The ICSI procedure involves injecting sperm into eggs to finish the fertilization process. A couple can opt for this kind of IVF treatment if it is anticipated that they will have fewer and lower-quality eggs.
Gender Selection IVF
Gender selection refers to any attempt to predict the sex of an unborn child even before implantation and pregnancy test. This phrase is otherwise referred to as family balancing which allows intending parents to decide the sex of their unborn child even just at the moment of conception. Click here to learn more about gender selection.
Top IVF Centers In Nigeria 2023
Below is a list of the top IVF centers in Nigeria 2023. Please note that we will continually update this list. 
Omega Golden Fertility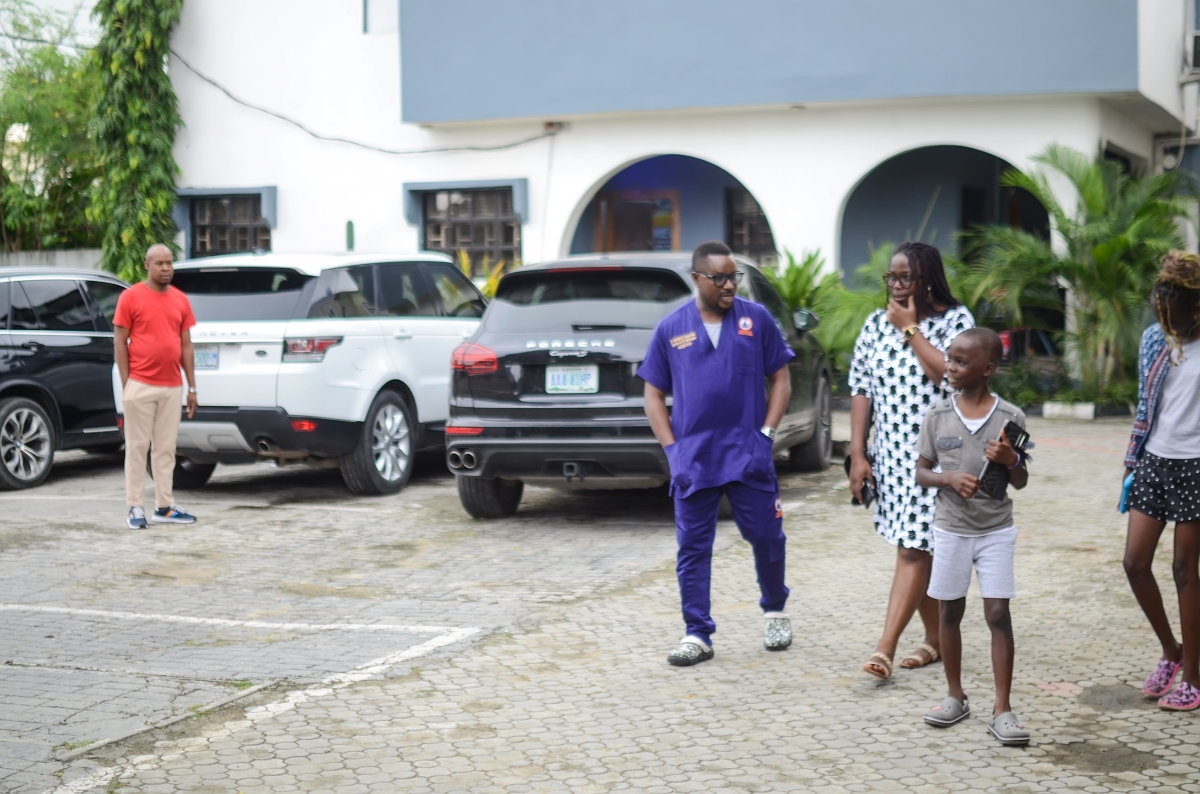 Omega Golden Fertility is one of the top IVF centers in Nigeria. The clinic is a specialised, premium and assisted conception centre in Nigeria. At Omega, the best of science, technology and the highest ethical practices are combined to deliver real value to clients.
To book an online consultation with Omega Golden Fertility, CLICK HERE
Omega Golden Fertility is widely considered as the last frontier in the assisted reproduction industry. With state of art facilities, highly trained specialists and a culture of excellence, omega is poised to bring her clients a lasting smile. The fertility clinic is run by Dr Abraham Fasasi (PhD).
Dr. Olaleke Fasasi has close to two decades of quality professional experience as a Certified Clinical Embryologist with an average of one thousand three hundred life birth through his expertise. He earned his PhD from Blue Marble University, Florida, USA with specialty in Stem Cell Biology (Translational Medicine).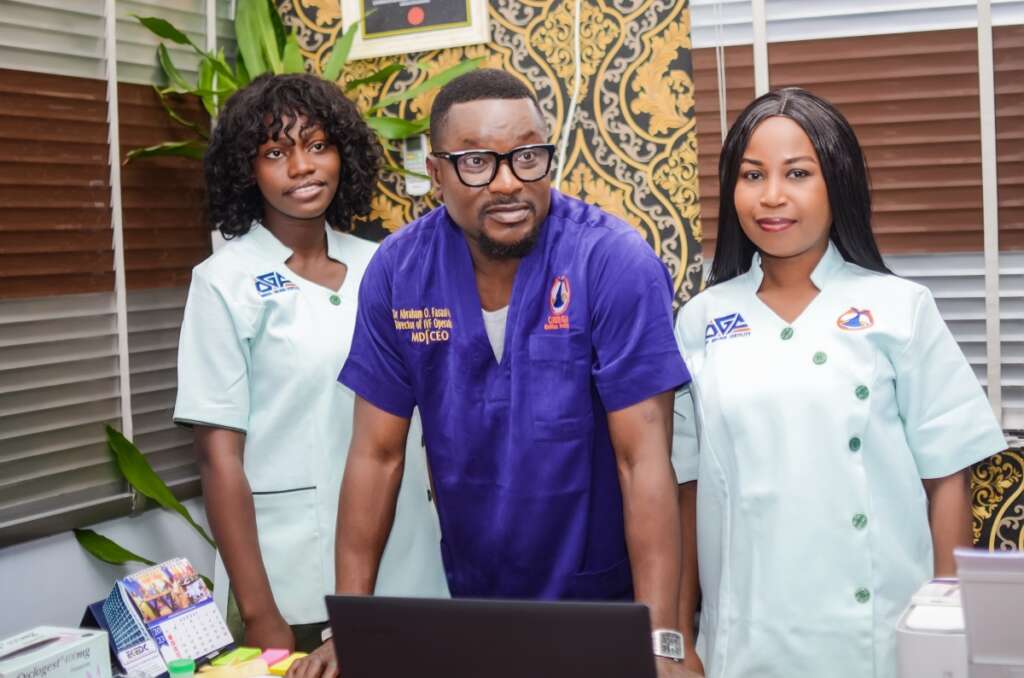 He is professionally grounded in all aspects of Human Assisted Reproductive Techniques like In Vitro Fertilization (IVF), Intracytoplasmic Sperm Injection (ICSI), Intracytoplasmic Morphologically-Selected Sperm Injection (IMSI), Gamete Cryopreservation and Vitrification with sub-specialty and a Translational Medicine Scientist. He has deep practical knowledge and success in all aspects of Pre-Implanation Genetic Diagnosis (PGD-S), New Technologies in IVF and excellent communication skills with patients.
He started his professional career in the wake of 2004 with Nordica Fertility Centre, Lagos, Nigeria as a graduate trainee, Clinical Embryologist. As a staff with Nordical Fertility Centre, Lagos, Dr. Leke won many awards. He won the STAR Performer Award as an Embryologist for his record number of achieved pregnancies and life birth ratio in his first year upon his post graduate training. He left Nordica Fertility Centre, Lagos as the Deputy Head and as the Most Outstanding Embryologist. Year in year out, Dr. Fasasi achieved outstanding records and won various awards to his credit.
He further acquired practical training and experience in Assisted Reproduction Technology (A.R.T.) at Genesis Reproductive Sentrum, Pretoria, S/Africa. His tutelage under the renowned Dr. Lourens Jannie, PhD, the founder of Genesis Reproductive Sentrum, South Africa provides him with required leadership skills for better professional performance.
In 2010, he went for further training in ICSI at Research Instruments International Headquarter in Falmouth and proceeded also to acquire IMSI Observatory training at the Centre for Reproductive Medicine, University of Manchester, St Mary's Hospital Manchester, UK to sharpen his skills in Modern Male Assisted Reproduction Techniques. He went for further Observership Training at Care Fertility Manchester, United Kingdom.
Also, in 2010, he enrolled and graduated in Postgraduate Masters in Clinical Embryology at The University of Leeds, United Kingdom. In the course of his postgraduate studies, he visited The University College, London for various Advanced Technological Training in IVF, Modern Techniques and Preimplantation Genetic Diagnosis in A.R.T.
He is a member of European Society for Human Reproduction and Embryology (ESHRE), American Society for Reproductive Medicine (ASRM) and Association of Clinical Embryologist (ACE) UK.
Dr. Leke became a sought after professional and trainer in the fertility service industry in Nigeria. Some of the clinics include Trucare Fertility Centre, Lagos, Crest Consultant Hospital (Bayelsa), Medisson Specialist, Lekki, Lagos, Paramount Specialist, Ondo, Ayomide Women Hospital (Osogbo). Amongst others, Dr. Leke's involvement with Regenesis Specialist & Fertility Centre, Lagos and Medisson Women Specialist Hospital, Lekki, Lagos made these clinics record series of a breakthrough in Reproductive Medicine via the delivery of their first babies ever.
Dr. Leke's Current Applications of PRP and SVF Fractions in Stem Cell Therapy article was recently published in the prestigious scientific journal; International Journal of Science and Research (IJSR) (publication ID SR20312180004; pages 1048 – 1055).
He also is the Chairman and Founder of Alpha Mums, a Not-for-Profit organization focused on giving back to the community through knowledge sharing.
Dr. Abraham Fasasi in his spare times like to analyze the sport of Boxing professionally and loves adventures. He strongly believes it is an honor to help complete the joy of families through successful reproductive medical interventions.
To book an online consultation with Omega Golden Fertility, CLICK HERE
Contact Omega Golden Fertility
To contact Omega Golden Fertility, see details below:
Adrress: 8, Tunde Oyediran close off Olusegun Ojeleye, street Budo Peninsula Estate Ajah, Lagos.
E Mail: info@omegagoldenfertility.com
Phone: 08029400040, 08165012501
Top IVF Centers In Nigeria 2023
Other notable IVF clinics that made our list include
Nordica Fertility Center
Bridge Clinic
The Olive Branch Clinic
Medical ART Center
DID YOU MISS OUR LAST INFERTILITY AWARENESS EVENT? WATCH THE FULL VIDEO BELOW
You can also connect with us on all our social media handles for more regular updates
Facebook: @omegagoldenfertilityng
Instagram: @omegagolden